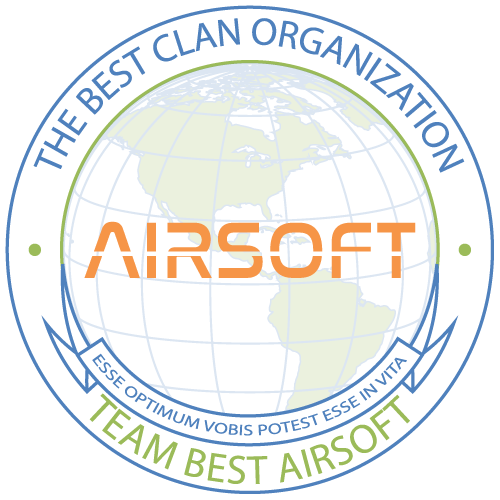 Team Best Airsoft is an airsoft team formed by the senior leadership of the best clan organization in 2012 as an amateur sports team that anyone can join. The team motto is Dignity, Honor, and Integrity, without one you cannot have the other. The team is broken down into each respective sector and section and each respective team forms the overall global team.
How to join Team Best Airsoft?
Membership into Team Best Airsoft is automatic, as long as the following requirements are met,
Prospective members are at least 13 years or older, (Under 18, requires parental or guardian permission)
Prospective members who are under 13 years, but older than 10 years, can explore our Jr. Team Best Airsoft (Page Coming Soon)
Members will be required to meet the requirements of the Airsoft Alliance (since Team Best Airsoft is a member of the alliance)
Members will be required to complete the Team Best Airsoft application, located on their members portal
Members will be required to uphold the team motto, rules and requirements and to always enjoy the sport
Membership is also subject to the Airsoft Alliance prohibited list and ban list (This is a list of people who are prohibited from being a member of the alliance, due to unsafe activities or other conduct that is unbecoming of a member of the alliance)
Members must also not be on any alliance teams or other airsoft teams (Membership into team Best Airsoft is exclusives, exclusion are programs or teams that are owned or controlled by the Best Clan Organization, i.e. Eagle Team, Epic Status Airsoft)
There are no ongoing comitmments or dues or other fees relating to being a member of the team.
If the above conditions are met, membership is automatic and no further actions are required to join, members may obtain team patches and related equipment, or gear from their local Sector/ Section Commander, or may request them via our store. Some items may not be free, due to the nature of our organization. But the cost will be what it cost to produce said items.
Questions or Comments
Reach out to your local officers or via social media or email us.
Discord
Connect with the team on Discord.
Join the Team Best Airsoft/ Team Best community discord to connect with other members or just hang out! If your an active member of the team, please be sure to mention that to a officer, so your discord role can be changed to reflect that.